Off season motorcycle storage for only $2.00 per day.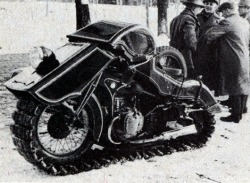 Are you looking to free up some garage space this winter? Moving the car inside for the winter means no more scraping the windshield every morning. If you can't fit the car and the bike in the garage and you don't plan on using your bike for an extended period of time, we would be happy to store your two-wheeled companion for a nominal fee, just $2 per day. You read that right: two dollars per day. If your bike has a sidecar attached, the price is still a very reasonable $5 per day.


At Beemers Uber Alles, we're not looking to take you for a ride on winter storage fees. Let's face it, not as many people bring their bikes in for service in the cold weather months, so we have some free space on the shop floor that is normally used for parking bikes a few hours at a time. It seems silly to let the space go to waste, so we are happy to use it to store your bike. As an added benefit to storing your bike with us, your battery will be charged as needed to maintain proper voltage and ensure longer battery life.

Of course, we would be more than happy to provide and service, maintenance, or repair work your require while your bike is with us. That way, you not only free up space at home, you can take comfort in knowing that when you are ready for that first spring ride, your bike will be ready too!

Space is limited and at only $2 per day, we might fill up quick. Call (571) 318-2472 today to reserve your spot for the winter.

---